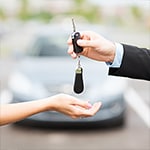 When it's time for you to get a vehicle, you have a choice between a new or used one. There are a number of benefits to buying a used car, including a lower price and more options. However, you need to make sure you follow these tips so that you get the best deal on your used car.
One of the most important tips to follow is to research the car thoroughly. Get a vehicle history report on the exact car you want to buy and also do internet research on the make and model to look for any problems. Before buying the car, you should have it checked out by an independent mechanic. If the dealer or person selling the car won't allow it, that's a potential red flag.
If you are looking for a quality used car, come see us at Dyer & Dyer Volvo Cars. We have a large inventory and our friendly staff can help you find the right one.