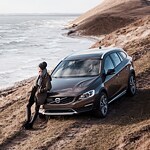 When you choose the Volvo V60 Inscription, you get some impressive trim upgrades. At this price point, you are going to get design features that are upgrades on many other models in its class. This is one of the reasons why the Inscription has quickly become one of the most popular midsize sports wagons.
The alloy wheels of the Volvo V60 Inscription give it a sleek and sporty look that will turn heads. The wheels do not sacrifice looks for performance though as they offer a smooth ride. The driftwood inlay features on the Inscription are not found in other wagons, and it is an added touch of luxury that comes standard.
If you are intrigued with the Scandinavian design features that give the Inscription a great trim package, head to Dyer & Dyer Volvo Cars today to schedule your very own test drive.